Landscape Design and Installation for Home Builders & Developers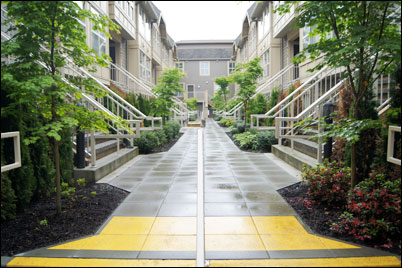 Overview:
The Focal Point Team provides landscape solutions for home builders and developers in the Greater Vancouver and Fraser Valley. Our design and installation teams understand and always strive to achieve the perfect balance between quality and function of the end product and the project cost. We also understand the value of your time, and consequently have made Focal Point your one stop shop for all your landscape related needs. Whether you need a retaining wall built, a mini excavator to grade out the yard, or an interlock walkway installed, we're the only landscape contractor you need to hire.
Gone are the days where one sad tree and a few shrubs were all it took to sell a home in this part of the world. Most home builders have by now figured out that a home's curb appeal is the first step in getting potential customers to enter the home. A well thought out and installed landscaping sets a great ambiance, and gives potential customers great confidence the home will be just as beautiful on the inside.
Computerized, Scaled Landscape Drawings by a Certified Landscape Designer:
Focal Point landscape designers create, deliver and present computerized, scaled landscape plans to home builders and developers. Some of the main uses for the landscape plans are:
Home builders requiring a landscape plan in a landscape design controlled development or subdivision
Custom home builders needing to provide project vision for themselves, their customers, or sub-trades
Strata councils or property managers proposing and needing approval to update existing exterior spaces
Land developers who need a visual tool to help them and other stakeholders in communicating proposed exterior elements information of a particular land development project
We guarantee our drawings will pass with an architect or another authority; our drawings are fraction of the cost of the landscape architects'; we're able to supply drawings in black and white, or in color; we're able to install what we design.
Installation Services by Landscape Professionals:
We at Focal Point offer landscape installation services at competitive prices to home builders and developers throughout the Lower Mainland and the Fraser Valley. Whether you are looking for an entry level landscape on a city lot, have a town home site or commercial space in need of landscaping using architectural drawings, or a custom home that requires nothing but the best in knowledge and craftsmanship from design to finish, we will be able to meet your requirements and your budget. Our experienced installation team will be able to assist you with project of just about any size or scope.
We believe even the simplest of spec homes deserves a designer's touch! Prior to installing a landscape on any home, our landscape designers ensure the proper plants and materials are chosen to achieve a quality end result, while keeping your budget in mind along the way. It's the little things like knowing how big or small a tree will get, planting sun loving plants in the sun, not the shade, choosing the right colour combinations to complement the exterior colours of the home...
Whether your project requires a landscape design or you're looking for a competitive landscape installation quote, we at Focal Point Landscape Solutions look forward to meeting your needs soon.