Compact Equipment Contractor Services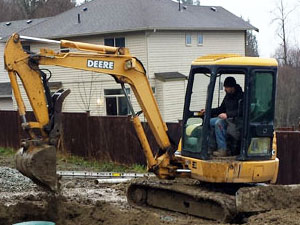 Most landscape, earth work, septic, demo or utility installation projects require the use of equipment. Use of compact equipment such as mini to mid-size excavators, skidsteers or track dumpers offers wide array of and benefits in number of circumstances.
Quite often, especially in the ever so shrinking building schemes of the Lower Mainland and Fraser Valley, compact equipment brings the most benefit. Often there just isn't enough room for a large piece of equipment. As well, often the scope of the job isn't large enough to justify moving in/out a large piece of equipment. Simply put, the right equipment allows you to work more effectively and efficiently.
An experienced mini to mid-size excavator or skidsteer contractor is generally able to get more done, in less time with greater degree of safety! We at Focal Point Compact Equipment Services offer a full line of mini excavation and skidsteer (bobcat) services, using experienced operators.
If your job site is within our service corridor (Burnaby, Coquitlam, Port Coquitlam, Port Moody, Pitt Meadows, Maple Ridge, Mission, Chilliwack, Abbotsford, Aldergrove, Langley Fort Langley or Surrey), and you need compact equipment to complete your project, give us a call.
We offer our services to home owners, home builders, developers, project managers and strata councils in the Lower Mainland and Fraser Valley.
Our Services Include but are NOT limited to:
Concrete/asphalt removal – walkways, driveways, stairs, slabs, parking lots etc. (via hydraulic jack hammer)
Sod/earth removal (up to 1 acre)
Trenching – utilities (gas, hydro, tel, electrical) drainage etc.
Site excavations (up to 1,600 sq.ft.) - shops, home additions, garages, coach/lane homes, including footing excavations, foundation servicing, slab prep and backfill
Land shaping (up to 1 acre)
RV / Boat parking pad preparation and installation
Natural rock boulder retaining wall construction
Tree/stump removal/extraction
Trail excavating and construction
Property drainage correction/water management and ditching
Perimeter drainage (drain tile) excavation and installation
Land reclamation incl. brush and blackberry removal (up to 1 acre)
Basement door excavation and backfill
Out building, shop, garage, barn demolition (up to 1,600 sq.ft.)
Septic system tank/field excavation and installation
Oil tank removal
Test hole/Sample pit excavation
Earth/aggregate transportation – either on or off site
Pond/water feature excavation
Swimming pool or swim spa excavations or demo/fill in
Post pounding (via hydraulic hoe pack)
Access road/driveway excavating and construction
Aggregate compacting services (via hydraulic hoe pack
Mobile home pad excavation and preparation