Willms, JL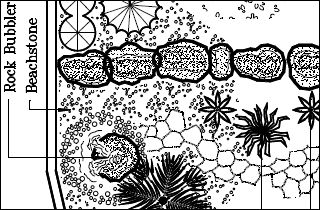 Site
This new Belcarra home was constructed on a steep sloping site.
Intention
To create an Arizonian themed garden on the roadside. To soften the massive architectural concrete retaining walls with plants on the waterside.
Solution
In the roadside garden, warm reds, oranges and yellows in foliage and flower are used and for contrast three Solver-dollar Eucalyptus trees separating the neighbour's garden. A hedge of Otto Luyken Laurel planted with Hyacinths line the walk down the driveway and lead to the focalpoint of the garden, the rock bubbler surrounded by tropical Phormium and Windmill Palms. Many groundcovers hide the invasive septic system. To complete this garden there is an orange-toned flagstone path leading from the road down to the side entrance and orange-hued beachstone to cover portions of the soil, all to be completed this spring. Salt-tolerant plants that won't out-grow the planters or block the stunning water view for the client or their neighbours were used on the waterside. Interest for all four season's, texture, vines and groundcovers are planted in these grand walls.