Zall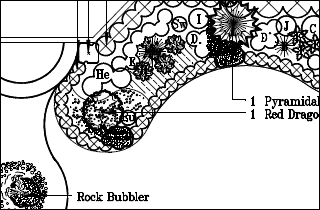 Site
Brand new constructed home in rural Pitt Meadows.
Intention
To create a landscape that compliments the home in its setting.
Solution
The entrance of the drive is designed to have stone pillars with an electronic gate. Planting beds on either side to welcome guests. The garage drive-though so the driveway then wraps around to the left and to the right under a breezeway connecting back to the main driveway. The walkway up to the front door is also a meandering informal walkway. Dressed on each side with colourful shrubs and perennials. A Himalayan Sweetbox hedge lines the walkway for fragrance and winter interest. Forest Pansy Redbuds, Pyramidal Hollies and a Red Cutleaf Japanese Maples all add stately effects in the front garden. The path leads to a feature rock bubbler placed on a soft corer before turning to walk up the front steps. A variety of large Pines, Maples, Dogwoods, Ironwoods, Sweetgum, Spruce, Magnolias, Beech, Tulip Trees, Birch and Dedora Cedars wrap the perimeter of the property. In the back we have designed a large patio to encompass an outdoor seating area, Hot tub and Fire-pit. The project is to be completed early 2008.