Silveri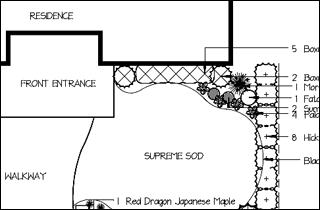 Site
A unique castle like home newly constructed into an established Burnaby neighbourhood.
Intention
Compliment, not cover the architectural stone while meeting the challenge of a jet fuel line running across the front of the property.
Solution
Boxwood Hedge to be kept low, trimmed beneath the window sil. Hicks Yew hedge to like each of the side property lines creating a courtyard effect. Adding colour without interrupting with the jet fuel line, Roseglow Barberry and Japanese Bloodgrass along the front property line. To finish off the elegant curb appeal the perimeter wall will be topped with Black Ornamental Aluminum Fencing.
In the Spring we will continued to install phase two, the backyard poolscape with Palms, Bananas and other pool-side must-haves.