Anderson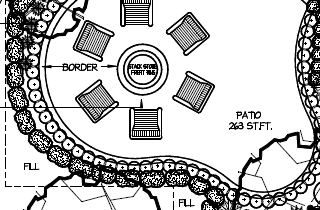 Site
Established property in Ruskin, overlooking the Lower Stave Lake.
Intention
To create a sunken patio with a fire pit and surrounding gardens for evening entertainment.
Solution
Sumas boulders in charcoal, shiny gray were installed to retain the existing soil. A very decorative tumbled paver patio was installed with a dark border, 3 colour, 3 size, tumbled paver insert laid in a random pattern in an irregular shape, the most challenging yet most stunning we've designed and created to date! A tumbled brick circular wall with metal insert was built in center of patio for the fire pit. Time edges between patio & wall to soften the hardscape. Emerald Cedars lines the 'room' to create a very intimate feel. Perennials were added for visual appeal in summer & fall.