Shariff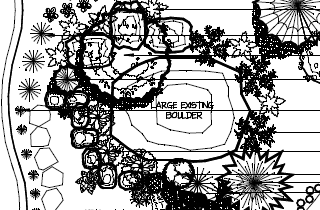 Site
Corner, flat acre property in Maple Ridge in High-End new subdivision with a large existing boulder emerging from the middle of the backyard.
Intention
To have perimeter planting beds to provide some privacy from neighbours and passer-byers. To use large existing natural boulder and integrate it as part of the landscape. To use all natural boulders that came from the property as a natural boulder wall to take care of the gentle slopes. West Coast theme for the plant material choices. 3 water features and a firepit with compliment the outdoor kitchen, large deck and hot tub to complete the outdoor adult entertainment space.
Solution
The Waterfall with pond is an excellent FocalPoint from all the rooms at the back of the home with sight and sound. When Mo has his morning coffee off the Master bedroom veranda it will be to the pleasurable sound of his waterfall below.

The Waterfall off the back of the home is tucked up right against the emerging boulder, perfectly aligned with the kitchens large picture window where Helen can view her waterfall several times a day, everyday of the year. The height of the waterfall rock is positioned to be in-scale with the emerging boulder and to be seen while standing at the kitchen island counter, slicing peppers. Absolutley breathtaking when the sunset glistens off of the orange rockfaces.

FocalPoint has also installed a large natural boulder rock bubbler positioned at the main entrance to provide a tranquil experience for all arriving guests, that includes you Mr. Fed Ex man; and a visual to Mo as he sits in his office chair, looking out his office window, contemplating business. A second large rock bubbler was installed at the rear driveway entrance so everyday while coming home Mo and Helen can have the 'smile, relax & let it all go' factor before they even park their cars.