Fletcher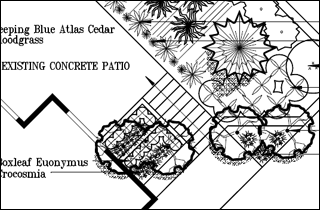 Site
Single-family Home in Port Coquitlam on an irregular shape and elevated lot.
Intention
To create a no-lawn garden suited for a Handsome Bachelor.
Solution
The priority of privacy was designed with a row of Columnar Cherry Trees to add quick height and Greenspire Euonymus planted in between to add a green screen during the winter months. A row of Greenspire Euonymus also divides the neighbouring property. We added some cool specimens...Blue Cypress, Weeping Norway Spruce, Evergreen Magnolias and Weeping Blue Atlas Cedar. Fun Tropicals...Windmill Palms, Bananas Plants, Purple Phormium, Irish Moss, as an awesome lawn replacement, Stunning Ornamental Grasses...Black Mondo Grass, Morning Light Miscanthus and Japanese Blood Grass. The client's current project is to enhance his rooftop garden where he views far east, south and west.