Services and Solutions - Installations
Our installation team is dedicated to quality on each and every project. We can assure you only the best in materials and craftsmanship will be used to assure a quality, long lasting product for your enjoyment.
Focal Point installs each project using either in-house staff or handpicked sub-trades that have proven themselves on previous projects. We will stand behind all work that has been completed by our team.
We offer the following installations: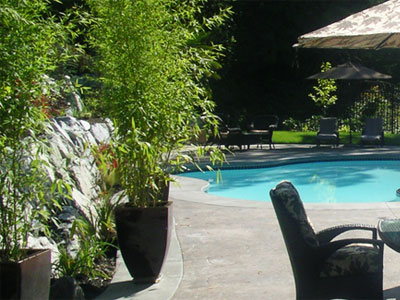 Plants are our designer's paradise, and they strive to make them yours as well. The right plant in the right place makes all the difference. The right combination of plants custom selected based on your preferences, will turn an average garden into a paradise. Our knowledge and experience will ensure you love your plants as much as we do. We only use the best quality plants, many of which will be unique to your garden. We'll also explain to you how to take care of your plants to ensure they always look the best they can.
Fencing is most commonly used for reasons of privacy, safety or pet containment. Whatever your purpose, we have a fence to meet every need and budget. We install standard cedar panel, custom hand crafted and aluminum fencing. For wood fences, we can also provide the finish that will make your fence last for a long time.
Interlock and Flagstone Patios and Walkways:
Patios and walkways enhance the look of any residence. They can be the focal point of your outdoor ambiance. These are usually constructed of flagstone, in either random or square cut, or interlock paving stones, which come in many colors and designs. Whichever you choose, you can be assured they'll increase the value and eye appeal of your property. Our installation process ensures you will get a lifetime of function and beauty from your patio or walkway.
Retaining walls serve both function, and enhance the overall look of a project. Whether you are after a concrete block wall, a wooden, pressure treated wall, or a natural boulder wall, we'll choose the best suited product for your application and have it installed to the highest standards possible.
Water features are among our favourites. They provide a unique element to your space, which puts your property above the rest. There are many types and sizes to choose from. The soothing sound of a water feature is sure to provide an excellent focal point and make your time spent in your outdoors extra relaxing.
In wood structures, sky is the limit. Once again, their purpose is to address a need, and be pleasing to the eye. Decks, stairs, arbours, privacy screens, planter boxes or gazebos, are all examples of frequently requested wood structures. When using quality materials, properly finished wood structures can provide many, many years of function and enjoyment. We can design and install a wood structure that best suits your unique space.
Whether you are looking to take out and dispose of existing weathered and cracked concrete, or you're simply looking to create new space using concrete, we're able to help. A front entrance, a patio, RV pad, widening of your driveway, or a hot tub pad... Focal Point will excavate, place aggregate, tamp, place rebar or wire mesh, and form the area, getting it ready for concrete placement. We have all the tools and equipment in-house, to do the job. The only part of the process we don't do in-house, is the placement and finishing of the concrete, which is done by our friends at Rock Solid Creations Inc. Concrete finishes include brushed, exposed, or stamped.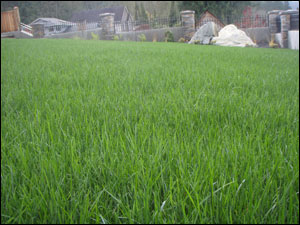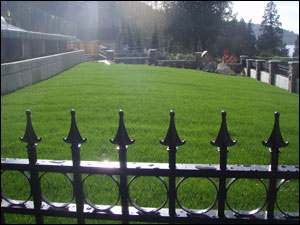 We also offer installations of some of the more traditional landscape related things, such as, soil, sod and mulch.
Artificial Grass: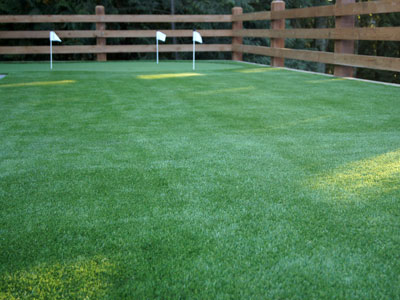 Artificial grass or turf as some call it is a great environmentally safe compliment to just about any landscape. Imagine, lush, green grass, year round! No more mold or patches, no more mowing, fertilizing, weed pulling or maintaining. Whether it's in shade, full sun, rain or drought, it's always there for you, green and ready to enjoy! Greater Vancouver and Fraser Valley offer a climate well suitable for artificial lawn installation!
Artificial grass is suitable for just about any space, inside or out. If you're paying to have your lawn moved, are tired of tracking grass blades and dirt into your swimming pool or simply are away from home for extended periods of time, synthetic lawn is a choice you should consider.
Synthetic grass comes in variety of colors to suite many purposes. Landscape grass, pet safe, golf and putting greens, roof deck or patio, just to name a few.
Accepted Payment Methods: Cash, Cheque, Visa and Mastercard
Visa maximum payment: $2,500