Focal Point Landscape Solution KUDOS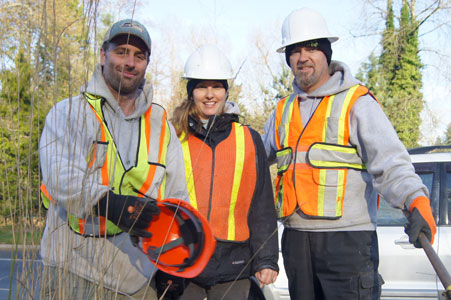 "I am very pleased with how the garden has turned out - and the gurgler provides that perfect bit of tranquility. Thank you for everything!"
Best,
Morita, New Westminster
* * *
"Thanks so much! We are super happy with how it is all looking outside :)"
Sampson, Mission
* * *
"Many thanks to you & your crew (John & Don) for a great job, Gillian is ecstatic!"
Elliot, Abbotsford
* * *
"Thanks to you and your crew for the great work. Everyone was very courteous about the baby and they were as least disruptive as possible. We enjoyed your friendly crew."
Chapman, Abbotsford
* * *
"We are all very impressed with the quality of your teams work."
Aung Thin, Mission
* * *
"We truly could not be happier with the results. We have been singing your praises to everyone, work was fast, crew was friendly and the results are fantastic. Am sure will have you back in the future."
Meighan, Maple Ridge
* * *
"Fantastic job - very professional and the whole team was wonderful. I love the design and looking forward to when all the plantings fill in. We will take good care of them! When we're ready for phase 2 -we will give you a call."
Nonis, Abbotsford
* * *
"Thanks for everything! We are very happy with how our new front and side yards turned out. I won't hesitate to recommend you to my friends, colleagues and clients. "
Manuel, Port Moody
* * *
"Our backyard looks like a park!! Thanks to Sarah for her design, and Radek and crew for an amazing job First Class Workmanship."
King, Mission
* * *
"Thank-you for contributing and supporting the revival of the Oyama Sister City Garden."
Chamber of Commerce, Mission
* * *
"Thank you for providing the much needed info on how to maintain my yard. It looks really nice. Neighbours have come by and complimented me on the nice job."
Kennedy, Abbotsford
* * *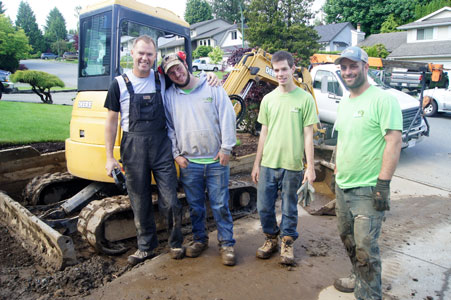 "Thank you so much! We really appreciate your professionalism and timeliness. We would definitely recommend your services for anyone that requires landscaping!"
Hermina, White Rock
* * *
"Thank you Lori, The garden looks great! Thanks to your team for all their hard work."
Jen, Abbotsford
* * *
"Oh my gosh; I enjoyed meeting you! I really believe that I learned more about gardening/ pruning in that hour than in my 30 years of reading and experimenting on my own. I am talking up your services up and hopefully will refer you some new clients :) "
Judy, Port Coquitlam
* * *
"Hi Lori, I didn't get the opportunity to thank you and Peter for the amazing transformation of our back yard. We are really happy with the work that was done and the overall design. I believe you might get some work from our neighbours who were also very impressed."
Dave, Mission
* * *
"I also wanted to comment and let you know that from what I see visually they did a terrific job. Don is very conscientious and you can tell he takes his job very seriously. You are lucky to have him!!!"
Tricia, Maple Ridge
* * *
"Jenn, I love the design! Thank-you so much for all the attention to detail and flow."
Liz, Abbotsford
* * *
"Lori, just a note to let you know how pleased I am with the pond – the coping stones that you hand-picked are perfect! I've been adding mosses and small plants around it. "
Tanis, Mission
* * *
"Thanks to everyone on the Focal Point Team for transforming our frontage from old and overgrown to a fabulous two tier retaining wall and gardens. Your suggestion to leave some of our older plants and combine them with newer ones helped us maintain the privacy of the mature garden but with a much cleaner and fresher look. From our first meeting with Lori at the home show, to our consultation with Jenn, and through the interaction with Radek and his crew, we were confident that we had made the right choice with your company. Everything was done on schedule, the site was left clean every night, and we were kept updated throughout the project.
You captured our vision exactly and your recommended choice of new plants to blend with the old was perfect. We were so pleased with the outcome that we have asked your team to design a space we left empty to do something special with a gate that has been handed down through our family. We are excited to see the finished result, which we are confident will compliment what has already been done. You will absolutely be hearing from us for all our future landscape projects."
Carol Mitchell, Abbotsford
* * *
"I just wanted to say a big thank-you to Jenn for the beautiful array of spring bulbs that were planted in our garden last fall. The display has been so wonderful and even though the tulips are still blooming due to the cool weather we have thoroughly enjoyed all the colour - a great job well done. Regards to all of you."
Kerry Rawlings, Langley
* * *
"Thank you to everyone at Focal Point Landscaping who was involved in the amazing transformation of our back yard! From our initial phone call to Lori, we were kept well informed of timelines and pricing. Jen took our initial ideas and used her knowledge and artistic eye to create what we could not have imagined. Work was done in a timely manner, with someone on site every day until the job was complete. Don, who laid the pavers, was impeccable at his task, Radek and all the others were equally as friendly, responsible and creative. We are still in awe of our beautiful yard, and will recommend Focal Point Landscaping with no hesitation to anyone."
Darlene and Paul Weston, Maple Ridge
* * *
"The backyard looks awesome! We are very happy with it. The extra soil and transplants around the side and front look excellent as well. We look forward to some nice weather to actually enjoy it! Your guy, Don, who worked long hours in the rain all the time on the patio deserves special recognition! I know we can't help Mother Nature, that that was a really bad stretch of weather and so not ideal for landscaping."
Brent Mack, Port Moody
* * *
"Thank-you for a really great job! We knew right from the start that we would be happy with your work. From your first consultation, to the detailed drawing of the yard, we had a great feeling that you and Focal Point took your work very seriously. We would be happy to recommend Focal Point to our friends, you are all very professional and the fellows who did the install worked carefully and made sure to respect the property. We are looking forward to watching everything grow!"
thanks again, Dave, Louise and Karl Loewen
* * *
"Thank you for the inspiring, beautiful garden plan you created!"
The Polomarks
* * *
"I am thrilled with the plan you designed for my patio garden, the plants you selected for my patio garden and the tips you gave me about planting in March/April. I have already enjoyed several hours relaxing on the patio and enjoying the benefits of your Plan, Plant, Grow and Enjoy approach rather than my previous Guess, Plant, Grow or Die approach. LOVE IT! LOVE IT! LOVE IT!
Benefits of Your Expertise with My Patio Garden Plan:
Cost savings with professional plan verses my previous Grow or Die plan
Great fun and adventure exploring new plant options
Plan customized to my requirements for foliage perennials with the addition of my own personal choice for annual flowering plants
Plan customized to my needs for easy care and low maintenance
The Cunninghams
* * *
"Everything turned out great. Carson is a hard worker and didn't mind me getting in his way all day. He showed up on time, worked hard all day, finished on time and he did a great job cleaning up. No question I'd recommend you if I get asked, and the job... just like the last one turned out just like I expected. Stay tuned... I've got more projects coming in the future. Thanks to both of you for coming in under budget as well."
The Hickmans, Maple Ridge
* * *
"As an avid gardener, yet learning all the time, I am very impressed with the expertise and thoroughness given my garden. Before the house was even finished Lori and her team designed a plan that incorperated all my requests for original plants, placement of trees and cost factor. When it was time to do the project, they were punctual and enthusiastic. The job was completed on time and within budget. I have had them on two occasions and found that both times the same was true. I would recommend my experience to any gardener. Lori is always there after the project answering my concerns and guiding me through plant requirements, feeding and pruning. Thanks again Focalpoint Landscaping."
Donna Carlson, Maple Ridge
* * *
"Thank-you a million times for all your hard work our backyard is simply and truly beautiful! We love it! Please enjoy dinner on us as a token of our appreciation for everything you've done. Thanks again."
Sonia, Michael, Kaleb and Jordan Suedfeld, Langley
* * *
"We are very thrilled with the work Lori and her team from Focal Point Landscape Design did for us. We had 4 landscapers come out to estimate and found Focal Point to be competitive, knowledgeable and very easy to work with. We felt very confident chosing Focal Point and the final result exceeded our expectations. We found them to be very flexible and together we were able to come up with a landscape that we just love.
Lori was great at accessing how our landscape design would meet our lifestyle while still meeting the functionality of kids, entertaining, and mother nature's elements. We were so impressed by how hard her team worked and they were able to meet our very aggresive timeline. Our final result is a flagstone patio surrounded by a garden and a pathway leading to the lower garden and forest. Thank you to Lori and her team."
The Kirks, Port Moody
* * *
"Thank you Focal Point - I am ecstatic with the design work you did for my garden renovation project! I was very impressed with your consultation process and am confident that the plants you have selected for me will suit my garden beautifully."
Sheri Morita, New Westminster