Services and Solutions - Compact Equipment Services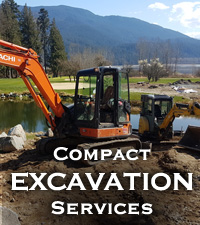 Focal Point offers a full line of mini excavation and bobcat machine services, using experienced operators. If your job site is within our service corridor (Coquitlam, Port Coquitlam, Pitt Meadows, Maple Ridge, Mission, Harrison Hot Springs, Chilliwack, Abbotsford, Aldergrove, Langley Fort Langley or Surrey), and you need a mini excavator or a bobcat service to complete a project, please visit our Compact Equipment Services division for more information.
Our services include (but are not limited to) concrete/asphalt removal, sod removal, trenching, back filling, grading, leveling, RV or Boat parking preparation, drainage, earth moving, stump removal, large tree installation, rock boulder walls construction, brush removal etc. We have the right compact equipment and operators to meet your needs.
We offer great service at very competitive rates. We carry full liability insurance.