Focal Point Landscape Solutions Team
Lori Hanus
Certified Landscape Designer
Lori earned a 3-year landscape design diploma from Fanshawe College in London, Ontario and has served as a landscape designer, estimator and project manager in multi-million high-end residential and commercial companies. Lori holds 19 years experience in the design / build and maintenance sector and has owned and operated Focal Point for 16 years.
Lori is currently working toward her CLP (Certified Landscape Professional) designation through BCLNA.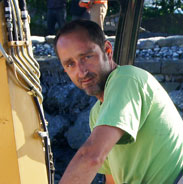 Radek Hanus
Director of Operations/ Installations
Radek is our on-site projects leader, head installer and equipment operator. His primary focus is landscape construction and managing the rest of the Focal Point team. He's been installing for Focal Point for the past nine years. Over the past 9 years, Radek has accumulated thousands of hours operating compact equipment. Radek holds a diploma in Operations Management which he earned at BCIT.
Don Stapleton
Site Leader, Certified Irrigation Installer
Don has become an important part of the Focal Point Team early in 2010. His life experience, extensive background in mechanical, concrete forming, and construction in general are a great asset to our company. Don's attention to detail and systematical approach to landscape construction allow him to build or figure out just about anything that may be thrown his way.
Don has a B.C.L.N.A. Residential Landscape Technician diploma from Douglas College and his future plans are to broaden his knowledge in Landscape Design.
Jon Blais
Maintenance Leader/Softscape, Certified Arborist
Jon earned a Greenspace Management Diploma, Organic Horticulture Certificate and Arborist Certificate over the past 3 years while applying his knowledge in the field at a Golf and Country Club, Park Zoo and Park Conservatory before setting his eye on FocalPoint. We welcome Jon's current talents and skills and will grow him into areas of hardscaping to add to his repertoire. Jon volunteered at Windebank Creek Cleanup for the Fraser Valley Conservancy in 2015.
Crystal Camilli
Softscape/Maintenance Leader
Crystal is proficient in her softscape installation and maintenance skills holding an impressive 8 years experience in the industry. She has worked on a variety of projects from small to large and residential to commercial. She is confident in use of all power tools and trucks and plans to further her experience onto machinery. Crystal plans to continue absorbing plant knowledge and plant taxonomy to eventually conducting consultations and moving into the design sector. Crystal compliments our Team Perfectly : )
Amanda Walker
Office Administration
Amanda holds 20 years experience in leading teams, logistical planning and holds education in bookkeeping. She is the perfect fit for our multifaceted business where she's does accounting, payroll, account receivable, accounts payables and runs the office answering phones, e-mails, scheduling keeping everything organized. Now trying her hand at Managing the Maintenance Division of Focal Point. Always learning!
Check out our Employment Positions Available