Carleson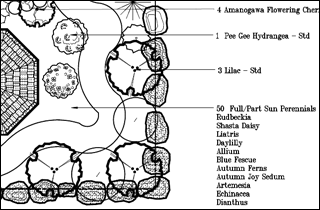 Site
A new Single-family Home. Constructed on a beautiful lot that views all of Maple Ridge.
Intention
Create a low-maintenance garden to add curb appeal to compliment this glorious new home.
Solution
The design includes plants that are well suited for its space, along with an underground sprinkler system, creating a low-maintenance garden. Special attention was paid to choosing plants with coloured foliage to stand out from its gray custom stone background. Splashes of seasonal colour were introduced with annual bedding plants.