Fettback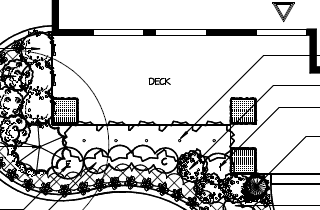 Site
Subdivision home in Langley. Gardens were established, but now overgrown.
Intention
Curb appeal with new trees, shrubs and perennials that will not outgrow the space.
Solution
Removed all existing plant material in bed. The elegant Himalayan Sweetbox runs through the bed providing interest for all four seasons with the added bonus of fragrant flowers. Bordered in front of the Sweetbox is Caramel Coral Bells adding foliage colour for 3 seasons. The corner is anchored by a Pyramidal Holly Tree. Splashes of colour are added in tones of orange with the use of Emily McKenzie Corocsmia, apricot Twist Wallflower and Tangerine Potentilla. The FocalPoint at the entrance is a Waterfall Japanese Maple which turns a beautiful orange in the fall.

On the opposite side of the driveway, the small lawn space wasn't under irrigation and was the location for garbage pick-up. Our solution was to remove the lawn, add flagstone and thyme, a drought tolerant grass replacement.