Harder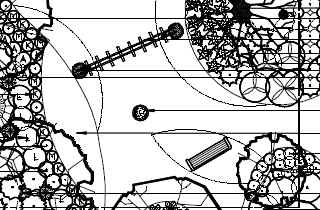 Site
Acreage in rural Chilliwack along a busy trucking road
Intention
To create an intimate courtyard feeling in the front yard for the client to be able to have privacy and enjoy the space from morning coffee to an afternoon stroll through the garden.
Solution
As the client loves the sound created when traveling on gravel, we decided to re-do and re-orient the cracked asphalt driveway with crush, bordered with stamped concrete, which contains the gravel but also acts as walkway from the front door to the road. By curving the driveway we were able to create a small planting bed on the west side to create privacy from the neighbours. As lawn was not desired in the front yard we created pathways of pea gravel to continue the experience the client was hoping for with ornamental areas filled in with Mexican Black pebbles for contrast. Pushing the gardens out to the road to maximize the space, a mixture of deciduous and evergreen plant material was layered to create a visual and partial sound barrier from the road. Plant material included Purple Smokebush, Goldenlocks Elder, Yellow Cab Mockorange, Winter's Star Camellia, Dwarf Blue Arctic Willow, Rose Glow Japanese Barberry, and Eddie Yew.

The client loved her trees, so we worked around the existing location of six trees, creating a Japanese themed garden beneath three conifers, relocating a Parrotia and surrounding it with hostas, and introducing a Full Moon Japanese Maple, Tiger Eye Sumac, and a Weeping Bald Cypress. Uplighting on each tree has been installed by the client allowing for enjoyment of the space well into the night. Near the front door beneath the Styrax, we created an area for a bistro set with creeping thyme as the ground plane. A two-post arbour divides the large front yard into smaller spaces by becoming a threshold point, an object of observation, and a framework for the bench and bird bath that complete the courtyard experience.