Scales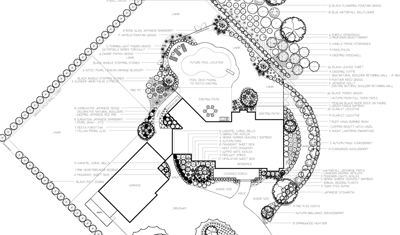 Site
New Residential home on a sloped acreage in Mission.
Intention
To create a landscape plan that can be installed in a phased approach for a number of years starting with the necessities like retaining walls, front yard foundation planting and lawn. The new landscape to compliment the new home with luxuries like a pool and a poolscape.
Solution
Designed in 2013. The pool was designed in the position to take advantage of the most sunlight on this shady property. Large curves for paving and plant beds were designed so the riding lawn more can mow the lawn in one pass and not have to go back and weed wak after; resulting in lower maintenance! Lots of flat open lawn area for recreational play as well as a firepit. A Spring Grove Cedar Hedge was installed along the property line to provide privacy to the neighbours as well as to separate the business portion of the property from the residential portion of the property. At the rear of the property there is a large slope I designed in 'native' plant material to provide some erosion control. Colourful, four season, low maintenance plants were designed into all of the plant beds.